Hi! My name is Lauren. I love to digiscrap! You would think with all the scrapping I do, I'd be caught up by now! But I'm nowhere near!! Maybe its because I have too many projects I want to do! I also love to read, when I can find the time. Right now I'm reading Fifty Shades of Grey (GASP!!!) I'm on the second book. You can find my digital scrapbooking blog
here
. And you can find some of my galleries
here
and
here
.
My most favoritest (yep, I used that as a word) would have to be one of Meagan's newest kits called Wishes and Wings. This kit was made with the palette of my 2 year old daughter's room. I have BIG plans for this kit!! Here is a layout I made for my daughter's room with this kit.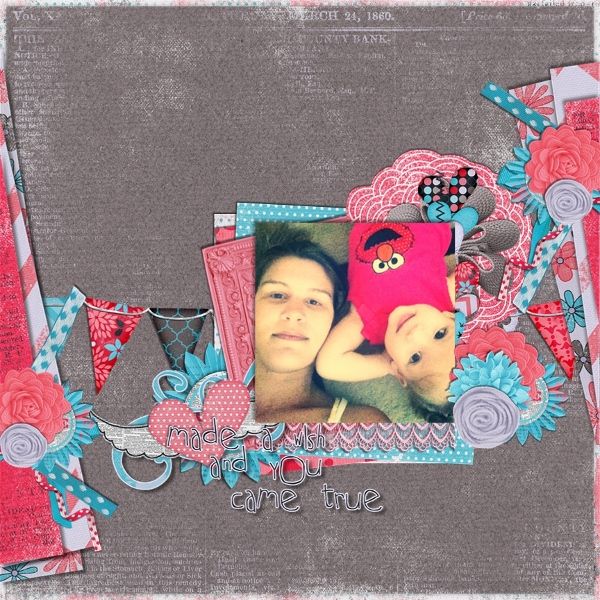 And I just love this layout too. I used a template from QueenWild Scraps and Meagan's kit Playground Play. I think that might be my 2nd favorite kit. I love the bright, bold colors!!
I don't think I've been anywhere exotic...unless you count the bear farm in Michigan exotic??!! We went there in June. They used to let you hold the baby cubs, but 2 days before we went there, the Feds came and made them stop doing that. I was very sad about that! I ssoooo wanted to hold a bear cub!!
And here is another picture from that trip. We took a little visit (about 2 hours) into Canada for dinner and ice cream!
The one thing that I could not live without would have to be......my cherry chapstick. Yes, I know I'm weird and I'm pretty sure I'm addicted to this stuff. I don't EVER leave home without it!!!
My biggest dream is to, one day, own my own daycare. Maybe when all the kids are in school I can focus on that!
And my favorite layout technique...hmmm. I would have to go with clustering. Whether its photos or elements. I LOVE clusters. I'm not that great at them, but I think my clustering has gotten better with time!